Dolpo Trek
Dolpo Trek rests in Nepal's northwest part and offers wilderness trekking routes. The isolated region is famous as Upper Dolpo Trekking. 
The pristine beauty of Nepal lies in the remote Himalayan region. Among many such stunning trekking destinations, the Dolpo region has its own story to share. Dolpo rests in Nepal's northwest part, between the unique Tibetan Plateau and the majestic Dhaulagiri mountain ranges. The soaring peaks called Dolpo rise to form a ringed horseshoe shape. With the landscape representing a cold high desert feel, the Dolpo region is the true blessing of natural beauty.
Eric Valli, in 1999 directed a movie named Caravan in Nepal to feature the elegance and charm of Dolpo. This movie captivated cinema-goers and adventurers in this deserted section of Nepal. Only after 1989 were foreigners allowed to visit Dolpo. But even now, Dolpo carries a new and unexplored feel as this area remains restricted without a special permit. This is the ultimate destination for soul-searching and adventurous pleasure in such unsullied nature.
So, are you ready to explore Nepal's best trek and learn more about it? Well, you must.
Why Trek to Dolpo?
Explore Dolpo is hard to match for its immense beauty and rugged charm. Upper Dolpo Trek and Lower Dolpo Trek bestow an endless variety of landscapes and incredible diversity. As one explores the elevation from 1650 meters (5,412ft) to 5136 meters (16,846ft), one can witness the numerous change in vegetation and the landscape. The farmlands and the hills gradually change into the sub-tropical forest and alpine grassland. The colorful landscape looks right out of some outlandish movie you dream of being a part of.
Walking on such remote and deserted land for weeks can be challenging for your body. That said, the rewards of the Dolpo are astounding! Living in an area discovered only by a few outsiders, witnessing the rich Buddhist traditions of the Dolpo people; flying into the high mountains; marveling at Phoksundo Lake, and challenging yourself must sound heavenly.
Besides the crystal blue lake of Shey Phoksundo, you can witness the Shey Gompa, Bon practitioners, and Buddhist monasteries that appear out of nowhere. Not to mention the stunning mountain views of the Dhaulagiri range in the east and south and Mt. Sisne, along with Kanjiroba in the west. And that's not the end. You can explore the Shey-Phoksundo National Park, home to the elusive snow leopard, blue sheep, Himalayan black bear, goral, and many other mammal florae.
The hospitable local people with rich culture and tradition are a huge plus. Tibetan descent, since the initial centuries of Christianity, influences the culture and tradition of this region. Upper Dolpo trek itinerary Tibetan refugees continue to trickle into the villages of Dolpo. The colorful prayer flags, chitons, craves stones, and artwork all present the best of Dolpo.
Difficulty Dolpo Trip
First and foremost, you should know you have two trekking options- Lower Dolpo and Upper Dolpo. The Lower Dolpo is a classic path requiring about 15 days of walking. But, exploring the upper Dolpo insists one more week. The desert-like landscape of the Dolpo bestows a challenging trek with some steep ascents. With the two high passes to be crossed at 5,000m and several days spent at 4,000m asl, you cannot take this trek lightly. The highest you get is Kang-La Pass at 5,151m and Bagala Pass at 5190m.
You will walk 5 to 7 hours daily for more than two weeks. While that sounds easy, gaining 500m height on average will be a tough climb. Covering more than 10km every day is a challenge for you.
Do not forget that Upper Dolpo is the least developed territory of the nation. It's not just the altitude you suffer; remoteness and lack of essential facilities are other challenges. Ignoring acclimation days and dehydration can be the primary enemy of your journey. So, yes, it isn't effortless to trek to Upper Dolpo in a precise sense. While some high-altitude trek experience can be a significant plus, you can hike without expert knowledge and climbing equipment. That said, you need to be in excellent physical health and have mental dedication with a superior strolling stamina level. Nonetheless, challenging climbing, outdoor games, cycling, vigorous exercises, and other cardio-muscular exercises can prepare you well.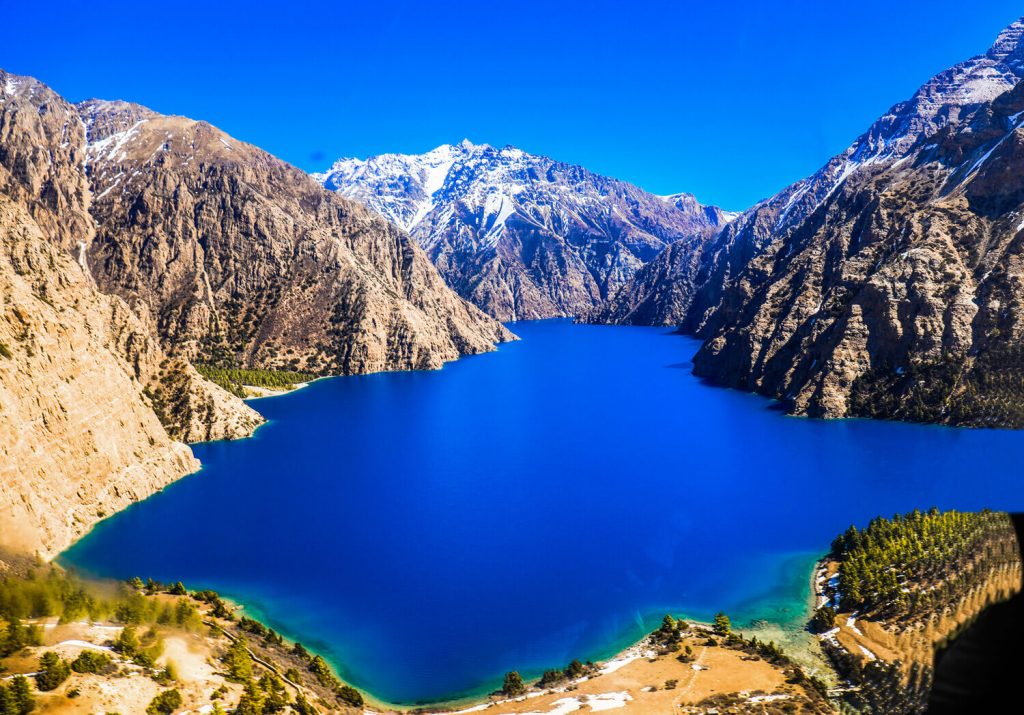 Best Season for Dolpo Trek
Trekking in the right season is the biggest plus. Nepal's trail during the monsoon season (June to August) is unsafe. On the other hand, the winter season (December to February) in the trek Dolpo Nepal offers shallow temperatures with thick clouds. But with the right clothes and other equipment, the winter trek has its perk.
Anyway, the remaining seasons, i.e., autumn (September to November) and spring (March to May), are considered Dolpo ideal: stable weather, warm temperatures, and the exact make for the prodigious Dolpo trek.
You need a group of at least two people to trek into Lower or Upper Dolpo. You must also book your tour or have a guide before getting these permits. An individual will not be issued this permit. But just in case you are a solo traveler, consult if your trekking agency can arrange the tour for you alone. Also, the agency will organize all of these permits for you.
Dolpo Buddha Rural Municipality
Shey Phoksundo Rural Municipality
Charka Tangsong Rural Municipality
Dolpo Trek Cost
The Upper and Lower Dolpo Trek is a remote and stunning trekking destination in Nepal, known for its breathtaking landscapes, rich cultural heritage, and unique Tibetan-influenced villages. Regarding the cost of the trek, several factors need to be considered. Upper Dolpo Trek Cost ranges from $3500 to $4,500 per person. This cost typically includes permits, transportation, accommodation, meals, guide, and porter services. However, the actual cost may vary depending on various factors such as the duration of the trek, group size, trekking season, and additional services like equipment rental or extra activities. It is advisable to check with reputable trekking agencies or tour operators to get accurate and up-to-date information on the cost of the Trek.
Summing Up,
Dolpo offers an expedition in the most remote area of Nepal. This tour provides intriguing insights into the local culture and pristine natural beauty. This trip opens many opportunities to explore this Himalayan country's prodigious landscape. If such an amusing destination is not on your bucket list, add it to the top.
If you have any queries, we are more than excited to guide you through them. Remember us.