Are you planning a trek in the Langtang Valley? Our Langtang Valley trek map is the perfect way to get started. It includes all the important information you need, including trail distances, elevation gain, and places to stay.
Table of Contents
Your Langtang Valley trek takes 8 days. From the Langtang Valley trek map, you will learn about the Langtang Valley itinerary.
The Langtang Valley Trek is a stunning and amazing hike with beautiful mountains, local culture, and the Langtang Himalayas.
The trek provides amazing routes to see the unique culture and natural beauty of the Langtang Himalayas.
Trek facts
Duration: 8 days
Distance of Langtang trek route: 65 km/ 40 miles
Trip cost: $490
Maximum elevation: 5000 meters (Tserko Ri)
Difficult level: Moderate
Himalayan sights: Mount Ganesh and Mount Langtang
Best time: March to May / October to December
Transportation: Local bus/ private car
Accommodation: 6 nights in the mountain
Langtang Valley Trek Map Itinerary Brief
Day-1: Kathmandu to Syabrubesi
As per our map itinerary, you'll start your journey from Kathmandu valley to Syabrubesi. It takes minimum 8 hours by bus to reach Syabrubesi and 139 km distance.
Trisuli to Dhunche is 50 kilometers, which is 70 km from Kathmandu. From there, you can see Langtang Himal and Bhote Kosi Valley.
The distance from Dhunche to Syaphrubesi is 19 kilometers. You'll be staying that night at Syaphrubesi before staying on your further trekking journey.
Day-2: Syabrubesi to Lama Hotel
As per our itinerary your second day begin with the walk crossing Bhote koshi. In two hours, you could climb a hill to Dovan (1640 m). In 50 minutes, we can reach Dovan to Pairo (1675 m).
It takes an hour to go from Pairo to Bamboo (1960 m). This forest is home to monkeys, red pandas, and Himalayan black bears. It takes 1:45 hours to travel from Bambo to Rimche (2390 m).
It takes 20 minutes to get from Rimche to the Lama Hotel. There your second day will take rest. All together your walking time will be 5-6 hours and your duration will be 10.9 km.
Day-3: Lama Hotel to Mundu
Your third-day journey will take you to Mundu through Langtang village. It takes 1:15 hours to travel from Lama Hotel to Gumnachowk (2760 m).
It takes 1:20 hours to continue to Ghoda Tabela (3020 m). You can see the view of Langtang Himal from there. The trek from Ghoda Tabela to Thang Shyap (3160 m) takes 45 minutes.
At 1:30 hours you will be climbing to Mundu through Langtang village. On your trek to Mundu, you'll see lovely Tamang villages and the stunning Langtang Lirung Peak. The total trek for the day is 14.8 kilometers, and you'll be on the route for 4 to 5 hours.
Some Featured Trek
Langtang Valley Trek has become a popular destination for trekking enthusiasts from all around the world. Between narrow mountain valleys base of the Himalayas and will take you to traditional villages, virgin forests, and crystal rivers.
Enquire Now
Langtang Gosaikunda Trek also known as the Valley of Glaciers; the rich flora of the unique culture of the ethnic Tamang community and a panoramic view of mountains such as Langtang Ri, Langsisa, and Ganjala Peak.
Enquire Now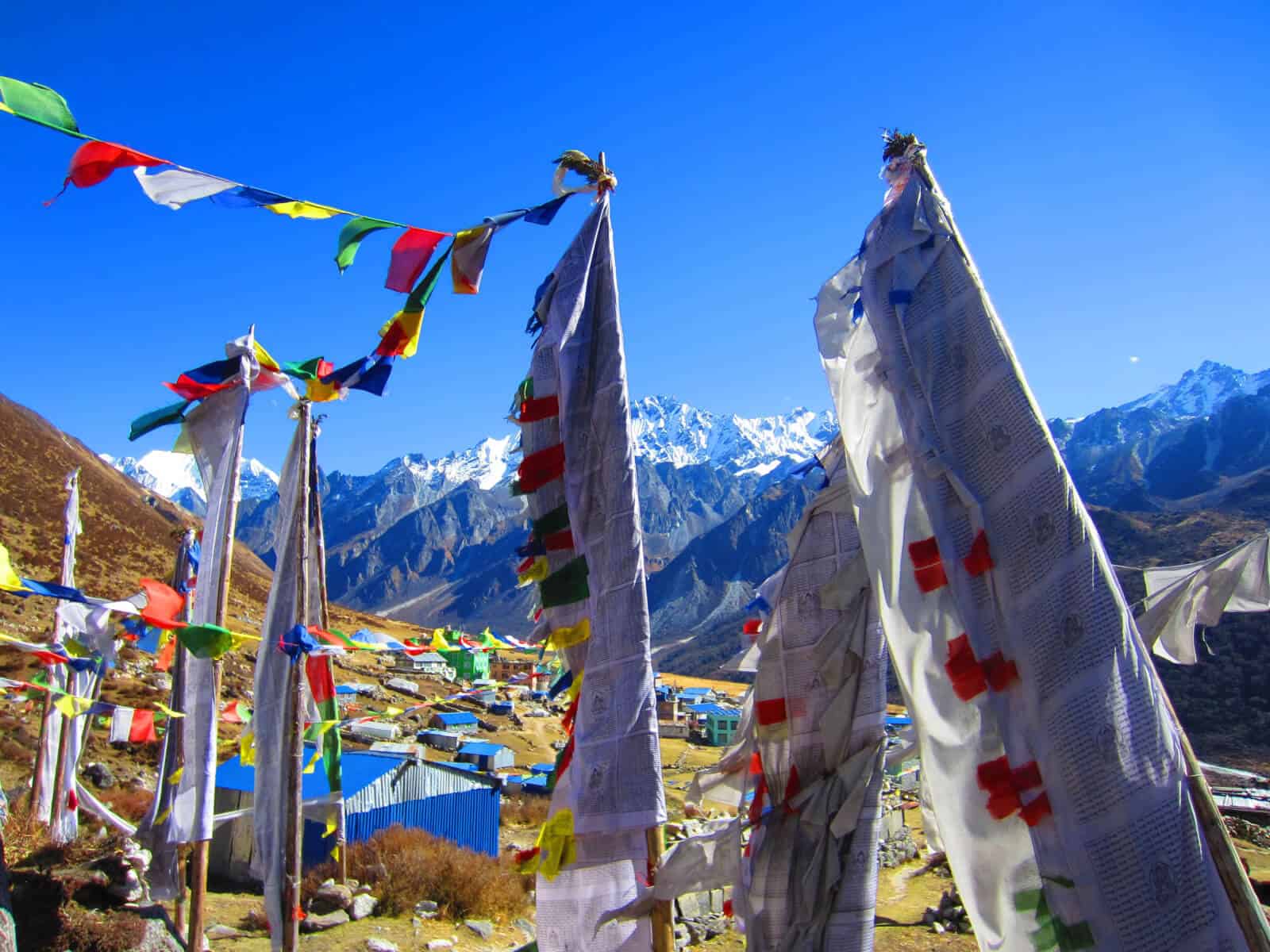 Langtang Gosainkunda Trek extended with the Helambu Trek. It offers a great combination of mountains and culture, which is a good choice if you are unsure about altitude.
Enquire Now
Day-4: Mundu to Kyangjin Gompa
On day four, you will visit Kyangjin Gompa, a calm monastery surrounded by snowy mountains, according to our schedule.
The 6.8-kilometer walks take 2 to 3 hours, giving you time to explore and meet friendly locals. Kyangjin Gompa also provides amazing views of glaciers and the high Langtang Lirung.
Day-5: Kyangjin Gompa to Tserko
Day five is an exciting and challenging trek up Tsergo Ri. You can see over 20 peaks, the Langtang Valley, and snow lakes.
This difficult climb is definitely worth it because of the attractions and the exciting experience. After enjoying the stunning views, you'll spend another night in Kyanjin Gompa.
Day-6: Kyangjin Gompa to Lama Hotel
On your sixth day, you are going back to Lama Hotel as your journey returns.
As you go down, you'll feel like you're remembering familiar places, giving you a special perspective on the surroundings. It takes about 6 hours to complete the 21.6-kilometer trek to return Lama Hotel.
Day-7: Lama Hotel to Syabrubesi
On the second to last day of your trek you'll trek back to Syabrubesi, where your journey began. Enjoy the memories and relationships made on the trek as you say goodbye to the beautiful mountains.
The 13.1-kilometer trek will take 6 to 7 hours to complete. you spend your night in the Syabrubesi for one more time.
Day-8: Syabrubesi to Kathmandu
On your final day, you will be returning to Kathmandu through a beautiful drive.
You'll look back on the amazing experiences and adventures you had in the Langtang area as you reverse your direction. Your Himalayan journey comes to an end after the about 7 to 8-hour journey
Langtang valley Trek Eevation
| | | |
| --- | --- | --- |
| S.N | Trek Trail | Elevation |
| 1 | Kathmandu | 1400m/ 4600ft |
| 2 | Syabrubesi | 1600m/ 5250ft |
| 3 | Lama Hotel | 2470m/ 8104ft |
| 4 | Mundu | 3430m/ 11256ft |
| 5 | Kyangjin Gompa | 3870m/ 12670ft |
| 6 | Tsergo Ri | 5000m/ 16404ft |
As per our map itinerary, here is a table showing the altitudes of the Langtang Valley trek. It provides important information about elevation changes for trekkers exploring this trek.
Frequently asked questions
How hard is the Langtang Valley trek?
People consider Langtang Valley as one of the easiest treks, which is moderately difficult but amazing.
What is the 8 days trek of Langtang?
The trek lasts 8 days, starting in Kathmandu and ending at Tsergo Ri.
Is the trek to Tserko Ri difficult?
Yes, trekking to Tserko Ri is challenging due to the high elevation of 5,000 meters. It is important to be well-prepared and physically fit for a safe and enjoyable journey.
What are the highlights of the Langtang Valley trek?
The Langtang Valley trek offers beautiful snowy mountains, green valleys, and the unique culture of the Tamang people.
What information does the Langtang Valley trek map include?
It displays the distances and heights between different places that appear on the trek map. The trekking path, villages, teahouses, lodges, lakes, and additional details are all included. 
Final words
The 8 Days Langtang Trek is an easy, eight-day trek that focuses on the region's natural beauty and cultural values. Most of the year is cold, while higher elevations see windy weather.
The trip from Kathmandu to Syabrubesi and the trek through the Langtang Valley provide you with unforgettable experiences.