Everest Base Camp Elevation is always on top of anyone's mind; everyone dreams of being at the highest base camp in the world. If you are one of the dreamers, this blog is for you; here, we have discussed the elevation of Everest Base Camp and the necessary information regarding the height of Everest base camp. So what are you waiting for? Read this blog and start packing your bag to begin your journey.
Everest Base Camp (EBC) is located at 17,599 feet. Its appeal extends beyond the majestic Mount Everest, including the thrill of climbing mountains and experiencing Sherpa culture. Here, we will look into the significance of Everest Base Camp's elevation, guiding you to explore its importance.
Elevation From Kathmandu to Everest Base Camp
You can start your journey from Kathmandu to Everest Base Camp through various trekking routes, each presenting distinct viewpoints and obstacles. Selecting the ideal route entails considering factors such as the duration of the trek, the scenic beauty, the level of difficulty, and the cultural interactions. Each route caters to different preferences, enabling you to customize your expedition according to your interests and physical abilities.
Kathmandu Elevation
Kathmandu, the city elevated at 1400 m (4600 ft), is the beginning point for you to Everest Base camp.
The real adventure begins on the flight from Kathmandu to Lukla. The 30-minute flight provides stunning views of the lush valleys below and the lower peaks of the Himalayas. As soon as you arrive at Lukla, you will find yourself at 2,800 meters (9,187 feet) and ready to start the trekking journey.
Phakding elevation
Located in the heart of the Khumbu region, Phakding is a beautiful village that will attract you on your journey to the iconic Everest Base Camp. Phakding is at an elevation of 2,610 meters (8,563 ft) above sea level. Its strategic location is between Lukla and Namche Bazaar.
Phakding, an attractive and welcoming village, takes you to Everest Base Camp. It is situated in the Dudh Koshi River Valley. Stunning landscapes surround Phakding and provide awe-inspiring views of the Himalayan peaks. The village will display the traditional Sherpa culture, capturing the local community's rich heritage and warm hospitality.
Namche Bazaar Elevation
In Namche Bazaar, the friendly Sherpas will welcome you with an open heart. This impressive town is known as the "Gateway to Everest" and is situated at 3,440 m (11,290 ft) above sea level; majestic peaks, including Thamserku and Kongde Ri, surround Namche Bazaar.
Namche Bazaar is located in the Solukhumbu District of Nepal, at the junction of the Dudh Koshi and Bhote Koshi rivers. The high altitude of Namche Bazaar adds to its attraction and makes it an essential resting point for trekkers acclimatizing to higher altitudes.
Tengboche Elevation
Tengboche is renowned for its amazing beauty and the iconic Tengboche Monastery. It is one of the high-altitude locations on your route to Everest Base Camp, located at 3,867 m (12,687 ft) above sea level.
The town provides panoramic views of mountain peaks such as Ama Dablam, Nuptse, and Everest, capturing trekkers with awe-inspiring beauty.
Dingboche Elevation
Dingboche is an attractive village that offers trekkers a unique Everest experience. Dingboche is surrounded by spectacular Himalayan peaks, including Lhotse and Ama Dablam; Dingboche treats you to awe-inspiring views and serene landscapes. It is located at 4,410 m (14,470 ft) above sea level.
After days of your trekking through challenging terrains, Dingboche provides a welcome break and relaxation. The village's cozy teahouses and lodges offer warm hospitality, creating a comfortable atmosphere to recharge you before the final push to Everest Base Camp.
Lobuche Elevation
Lobuche is at an elevation of 4,940 meters (16,210 feet) above sea level. Trekking to Lobuche is an adventure you won't forget because of its unique topography, which includes rocky routes and glaciers.
Gorak Shep Elevation
Gorak Shep is situated in the Himalayan natural beauty. It is the last stop before your ultimate adventure of reaching Everest Base Camp. Gorak Shep is 5,164 m (16,942 ft) above sea level, which marks a significant milestone in the Everest Base Camp trek.
There are two major attractions near Gorak Shep. Firstly, as the final destination before the trek to Everest Base Camp. Secondly, the climb of Kala Patthar, a nearby viewpoint, offers mesmerizing views of Mount Everest and the surrounding Himalayan views.
Everest Base Camp Elevation
As you might have known, Everest has two base camps: the South Base Camp and the North Base Camp. Everest's South Base Camp is in Nepal, whereas the North Base Camp is in Tibet. South Everest Base Camp is located at an altitude of 5.364 m (17,598 ft), whereas The North Everest Base Camp is at a height of 5,515m (18090ft).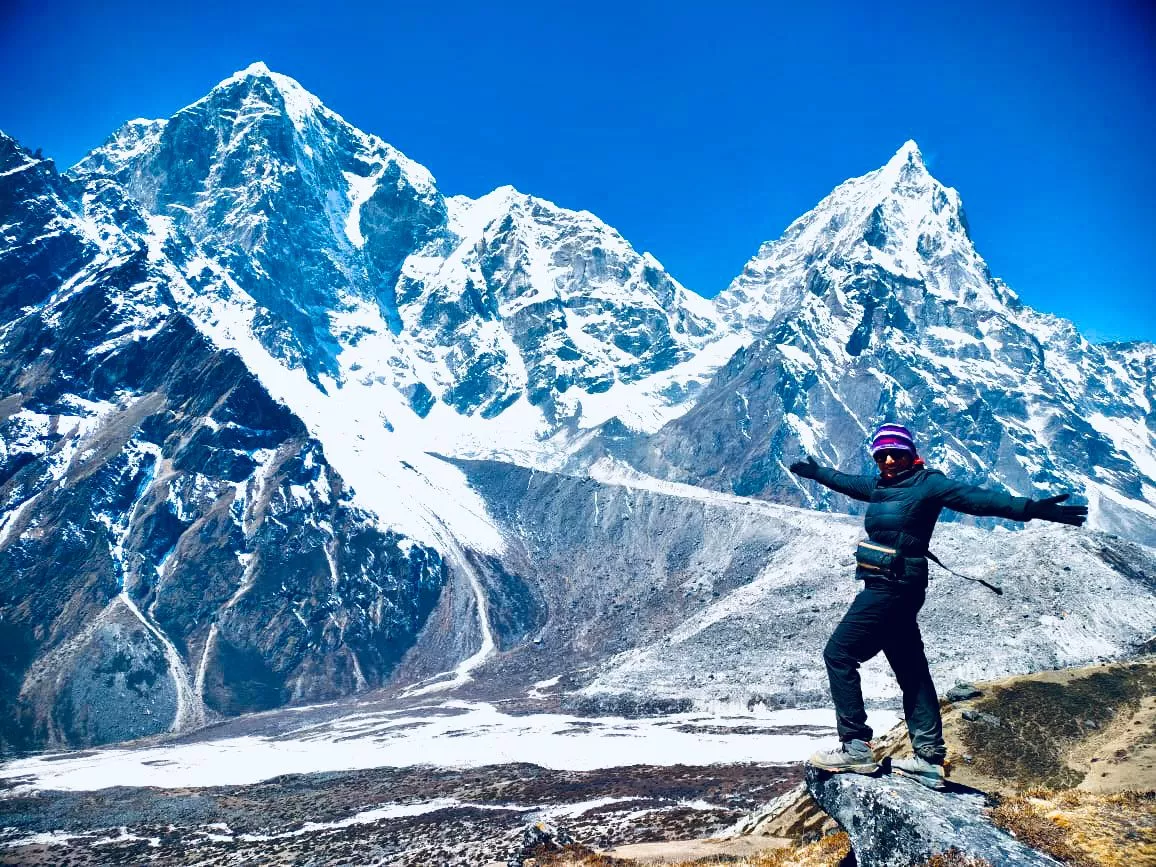 Altitude Gain Data
Altitude gain or elevation gain is the difference in overall altitude you achieve on your trip. As mentioned, your journey started from the amazing village of Lukla, situated at an elevation of 2,860m(9,383 ft). The EBC, which lies at an elevation of 5,364 m (17,598 ft), is remarkable. Considering the starting point in Lukla and the final destination at Everest Base Camp, you will gain 2,504m(8,215 ft) during the Everest Base Camp trek.
Altitude Gain Table of Everest Base Camp Trek
| | |
| --- | --- |
| Place | Altitude gain |
| Lukla to Phakding | No altitude gain |
| Phakding to Namche Bazaar | 803 m (2,723 ft) |
| Namche Bazaar to Tengboche | 430 m (1,411 ft) |
| Tengboche to Dingboche | 490 m (1,608 ft) |
| Dingboche to Lobuche | 590 m (1,936 ft) |
| Lobuche to EBC | 414 m (1,358 ft) |
| Climb Kala Patthar | 280 m (919 ft) |
Everest Base Camp Elevation Table
| | | |
| --- | --- | --- |
| S.N | Places | Elevation |
| 1 | Kathmandu | 1,400m/ 4600 ft |
| 2 | Lukla | 2,860m/ 9383 ft |
| 3 | Phakding | 2,610m/ 8,563 ft |
| 4 | Namche Bazaar | 3,440m/ 11,290 ft |
| 5 | Khumjung Village | 3,790m/ 12434 ft |
| 6 | Tengboche | 3,867m/ 12687 ft |
| 7 | Dingboche | 4,410m/ 14,470 ft |
| 8 | Lobuche | 4,930m/ 16174.54 ft |
| 9 | Gorak Shep | 5,164m/ 16942 ft |
| 10 | Kalapatthar | 5,644m/ 18,519 ft |
Everest Base Camp Elevation Chart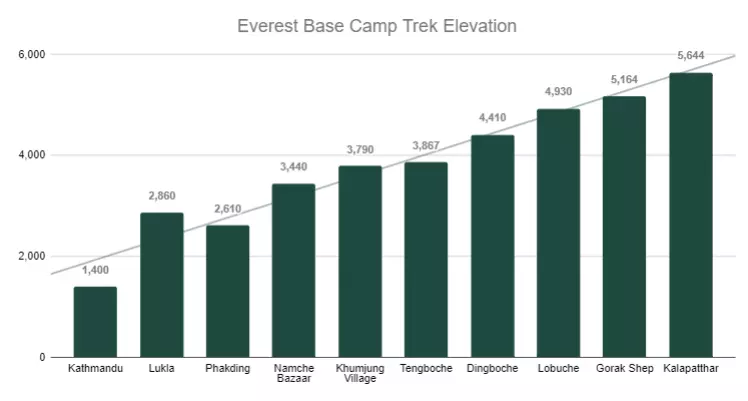 To make it easier for you to understand the elevation data, we have provided a visual representation of the elevation gain below. The chart will assist you in navigating and comprehending the difference in altitude between Kathmandu and Everest Base Camp.
Difficulty due to Elevation in Everest base camp trek
The Everest base camp provides you with breathtaking landscapes and unparalleled experiences but also causes difficulty in your trek due to its high altitude. Here are some of the difficulties that you may face due to the high elevation of the Everest base camp:
Altitude Sickness:
Altitude sickness is a common difficulty you will face at high elevations of Everest base camp. The lack of oxygen and lower air pressure at higher altitudes can lead to headaches, nausea, dizziness, and fatigue.
Physical exertion:
With reduced oxygen levels, physical exertion can become more challenging for you. You may experience shortness of breath and increased fatigue. Proper rest and pacing are necessary to manage these difficulties.
Weather and Terrain Challenges:
The unpredictable weather conditions and rocky terrains due to the high elevation of Everest base camp add to the difficulty of your trek. You must be prepared to negotiate through changing environments.
Alongside these issues, trekkers will likely suffer from problems like flight cancellations, illnesses like dry throat and cough, vomiting, rapid pulse, High Altitude Pulmonary Edema (HAPE), and High Altitude Cerebral Edema (HACE).
Symptoms and Prevention Method
Physical and mental fitness are important factors affecting your trek to Everest Base Camp and understanding altitude sickness in the Himalayas. Everest base camp trek ranks first among Nepal's most challenging treks, and disregarding preventive measures can harm your health. Despite its challenging nature, you can prepare well for the journey with proper training.
Altitude sickness is a common problem among Everest base camp trekkers. Quick changes in the higher elevation can lead your body difficult to adapt to the reduced air pressure and oxygen level. There can be symptoms such as nausea, vomiting, headaches, dizziness, fatigue, and loss of appetite caused by these changes in the atmosphere.
Adopting preventive measures can reduce the risk of altitude illness. Drinking at least 3 to 4 liters of water daily during the trek is essential. Do not drink alcoholic beverages and do not smoke, and carry preventive medicines. Most importantly, avoid trekking long distances at once and have sufficient rest.
Frequently Asked Questions (FAQs)
How hard is the Everest base camp trek?
The Everest Base Camp trek is graded as moderately challenging. While it doesn't require technical climbing skills, it demands good physical fitness and mental preparation. Although it is a tough trek, it is also an achievable goal. 
Can you go higher than Everest Base Camp?
Yes, you can, After reaching Everest Base Camp, many trekkers continue their journey to Kala Patthar. Kala Patthar offers breathtaking panoramic views of Mount Everest and the surrounding Himalayan peaks.
Can beginners trek Everest Base Camp?
Beginners can trek to Everest Base Camp with proper preparation and training.
Do you lose weight trekking at Everest Base Camp?
Trekking can lead to calorie expenditure, resulting in weight loss of around 5-6 kg in 12 days. A properly balanced diet and staying hydrated are needed to keep your energy levels up.
What is the minimum cost to trek in Everest base camp?
The cost of the Everest Base Camp trek varies depending on different factors. Even though the cost varies, the ranges start from $1,150 to $2,500 per person for a 12 to 16-day trek.
What is the hardest part of Everest Base Camp Trek?
Dealing with high altitudes and thin oxygen levels is challenging. Altitude sickness is another challenging part of trekking in EBC.
Q: Is it worth climbing Everest Base Camp?
The experience is incredibly rewarding, with breathtaking views and a sense of accomplishment.