Table of Contents
14 Days Everest Base Camp Trek is a popular trekking in the Everest region. This trek package offers enough acclimatization days for comfortable hiking to EBC, reducing the risk of altitude sickness problems. The success rate of the 14-day EBC trek package is high due to its proper planning of walking in high elevations.
14 days Base Camp Trek journey is a top-tier adventure since it leads you to the base of the world's tallest mountain, Everest (8,848.68 m/29,029ft). Traveling through stunning high-altitude landscapes, high-altitude wildlife, traditional Sherpa culture, Buddhist monasteries, and snow-capped mountains, this tour will offer you a natural thrill at an elevation of 5,364 meters (17,598 feet).
If you go through our articles on the Everest Base Camp 14 days trek, cost, and itinerary, you should be well-equipped to decide when you want to undertake the Trekxpedition, what you should carry, and what you can expect to see along the way.
14 Days Everest Trek Guide
An incredible 35-minute flight to Lukla from Kathmandu is the first step in your journey. The trail begins and ends at Lukla, 2,840 meters (9,317 feet) above sea level. By arriving at Lukla, you must cross into the Khumbu area, northeastern Nepal, where Everest is located.
Our lengthy Trek in the Khumbu Region starts today once we land at Lukla Airport; our final target for the day is Phakding. The enjoyment of a walk comes not from arriving at some predetermined location but from exploring and appreciating its magnificent surrounding landscape. Along the way, we'll pass through Chaurikharka Village and make our way down to Dudhkoshi Ghat, located at an altitude of 2,530 meters (8,300 feet).
We will pass via multiple suspension bridges and witness several traditional Sherpa communities along the route. Lulka and Phakding have several noteworthy settlements, including Chaurikharka, Chheplung, Nachipang, and Koshigaun. These villages are more than 2,500m (8,202 ft) above sea level and are on the banks of the Dudh Koshi River. If you go hiking in the spring, from March to May, you can see brilliant blue pine forests growing along the river valleys. Today you will spend the night at Phakding.
More fun is in store for you on the road the next day. We will begin the hike to Namche Bazaar after breakfast. The routes are challenging, but the views of freshly tilled fields, verdant woodlands, and undulating hills will keep us moving forward. It will also be the first time you see the many mountains soaring into the sky.
As we move along the trails, you'll find yourself besieged by mountains with peaks taller than 6000 m. As we hike more, we'll get to Sagarmatha National Park, where we'll get our permits for the next part of our hike.
Moving towards Namche Bazaar, we cross many impressive suspension bridges. In a fantastic location, we will witness two suspension bridges, one right after the other, dangling between the same hill stations, giving the impression that they were plucked directly from a science fiction film. You can hear the river's rushing water below as you cross the bridge.
Finally, we will reach the Namche Bazaar, the largest Sherpa village in the Khumbu region. Before going higher, you need to take a break so your body can get used to the new environment. As you climb higher, the air gets thinner and thinner.
During this free time, we plan on visiting the Sherpa Museum. We will also be visiting Syangboche Airport, the highest airport in Nepal. Even though the airport has been closed for nearly ten years, the surrounding area remains magnificent.
We'll also take a trip to the Everest View Hotel, the highest hotel in the world. A breathtaking panorama of Everest, Thamserku, and Kongde Ri awaits you as we go to the hotel.
After spending a day at Namche Bazaar acclimatizing, we'll set off for Tengboche, another jewel of the Khumbu area. Located at 3,867 meters (12,687 feet), the famed Tengboche Monastery is a serene and peaceful place for reflection and prayer. The only noises are those of birds and animals, notably the Danfe (Himalayan monal) and musk deer, as the air is echoed back from the mountains. Mt. Ama Dablam in the background makes this monastery even more beautiful. After walking for around 5- 6 hours, we'll reach Tengboche, where we'll spend the night.
The following day, we will gather our wits and continue our journey by trekking to Dingboche (4410m/14470ft), where we will be able to see the whole Himalayan ranges in the Khumbu region, including Lhotse (8,516m/27,940ft), Makalu (8,485m/27,838ft), Cho Oyu (8,189m/26,867ft), Nuptse (7,861m/25,791ft), Ama Dablam (6,812m/22,349ft), Thamserku (6,608m /21,680ft), and many more.
The trail offers beautiful views, but it is also challenging. We'll take a suspension bridge over the Imja Khola and climb up to the lovely Sherpa settlement of Pangboche, where we can see the Pangboche Monastery, one of the oldest monasteries in modern history.
After 5-6 hours of walking, we will reach the beautiful Dingboche Valley. And we will take a rest acclimatizing at Dingboche by exploring beautiful mountain peaks. The next day, we will head towards the beautiful village of Lobuche (4,940m/16,210 ft).
Our next stop after a day in Dingboche will be Lobuche, located 4,940 meters (16,210 feet) above sea level. To get to Lobuche, we will follow the Khumbu Glacier as we make our way from the Pheriche settlement to the summit. Following this route will take you to higher altitudes, through the Thukla Pass, and ultimately to the Khumbu Glacier.
On the way to Lobuche, we will pass by the memorial park above the Thukla pass. In this park, a whole hill is covered with stones to honor the Sherpas and other people who died there.
After spending the night in Lobuche, you're on the crucial last day of your Trek to base camp. However, before arriving at Everest Base Camp, we will trek to Gorak Shep (5,164m/16,942 feet) to pay due respects at the Army Mountaineers Memorials. To reach the EBC, leave your stuff at Gorak Shep and go down the Khumbu Glacier. The trail is filled with challenging ascents, but the rewarding sights of glaciers, icefalls, and picturesque lakes more than makeup for the effort. As the trek route will be covered with snow, you will be trekking following the instructions of 14 days base camp trek guide experts.
We plan to spend some time in EBC, enjoying the stunning scenery of the highest mountain on Earth. Seeing Everest from this close is a once-in-a-lifetime opportunity. This is likely the highest point you will ever reach on foot.
The paths are complex, and by the time you reach the summit, you will have overcome high altitude, cold temperatures, and rough terrain. That's an incredible feat. You'll be able to say you've set foot on the summit of Mount Everest.
We'll return to Gorak Shep in the evening and spend the night.
The following day, we'll hike to Kala Patthar to watch the sunrise over Mt. Everest and other peaks. We'll enjoy the view for a while and then slowly return to Gorak Shep for breakfast and a rest. After taking a break, we will walk to Pheriche village and spend the night that day.
The next day, we'll leave Pheriche village and head to Tengboche. The path passes rhododendron trees, juniper forests, and a bridge over the Imja Khola. After one last steep climb, you will reach Tengboche, where you will rest for the day.
Our return to Namche Bazaar is scheduled for the following day. Pheasants, musk deer, mountain goats, and even snow leopards are just some animals you can see along the trip. Namche Bazaar, where we will spend the night, is a welcome respite from our hard day of trekking.
Our time at Namche Bazaar will conclude after breakfast, and we'll return to Phakding. Being a downward climb, it shouldn't be too challenging. We'll reach several suspension bridges following the Dudh Koshi River's banks at Phakding, where we'll stay the night.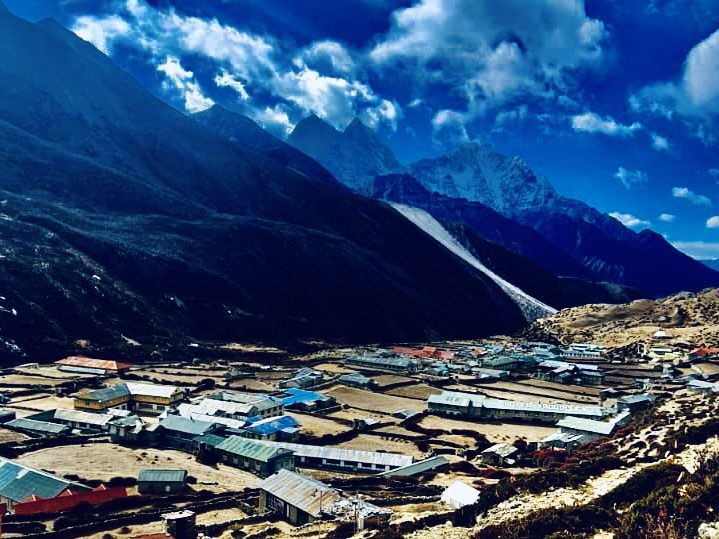 It's time to get back to Lukla now. The journey to Lukla is a strenuous ascent following the Dudh Koshi River downstream from Phakding. There isn't much time left on your 14 days Everest base camp trekking package, and this is your last hike. Stay the night in Lukla before heading back to Kathmandu tomorrow.
You can take your flight back to Kathmandu on the fourteenth day. Our Everest trek guide will pick you up at the airport in Kathmandu. And, with this, your 14-day EBC trek journey ends.
Day 1: Arrival at Kathmandu, Tribhuvan International Airport (1,380 m)
Overnight at hotel
Duration: about 30 minutes flight and 3 hours (8 km) of a trek
Overnight at Phakding
Trek duration: 5-6 hours
Overnight at Namche Bazar
Trek duration: 3-4 hours
Overnight at Namche Bazaar
Trek duration: 5 hours
Overnight at Tengboche
Day 6: Tengboche to Dingboche (4410 m)
Trek duration: 5 hours
Overnight at Dingboche
Day 7: Acclimatization at Dingboche- Hike to Nagarjuna Peak (4876 m) or Chhukung Ri ( 5546 m) and return
Trek duration: 4-5 hours
Overnight at Dingboche
Trek duration: 4 to 5 hours
Overnight at Lobuche Tea House
Day 9: Lobuche to Gorakshep (5180 m/16990 ft)- Everest Base camp(5364 m/17594 ft and return to Gorakshep
Trek duration: 8 hours
Overnight at Gorakshep
Duration: 7 hours
Overnight at Pheriche
Trek duration: 7 hours
Overnight at Namche Bazaar
Trek Duration: 7 to 8 hours
Overnight at Lukla
Flight duration: 30 minutes
Overnight at Kathmandu
Packing List For EBC Trek?
This Trek calls for meticulous planning and an exhaustive inventory of all essential supplies. Bringing just what is necessary on a long walk is a good rule of thumb. Though we respect your style, we suggest you run your outfit choices by us beforehand.
When making an Everest Base Camp packing list, it's important to remember that your belongings will be split between the day pack you carry with you and the duffel bag the porters will take up the mountain for you.
The porters will pick up your bag and transport it to the next day's tea house every morning. For this reason, it is recommended that you bring all the essentials for the day's hike in a separate daypack since you will not have easy access to the gear carried by the porters until you reach the tea house that evening.
Here are the crucial things you must pack before coming to Everest base camp for 14 days Trek.
Clothes
Insulating or winter hat
Shade wear, such as a hat or scarf for summer
Protective clothing (gloves, windbreaker, poncho)
Hiking shoes and thick shock
Long-sleeved shirts
Waterproof jacket and pant
Trekking pants
Lightweight T-shirt for summer
Fleece jacket or down jacket or sweater
Medium-sized- drying towel
Gadgets
Watch
Cell phone
Camera, chargers, and memory card
Headlamps and batteries
For hygiene and health
First aid kits
Toothpaste and brush
Sunscreen (including lip balm)
Tablets for purifying water (personal choice)
Water bottles
Body wipes
Blister protection: duct tape or moleskin
Nail clipper
Toilet paper
Other necessary items
Cash
Sunglasses
Extra passport photos
Photocopy of passport
A waterproof container for valuable documents and equipment
Why Everest Base Camp is a Very Famous Trek in Nepal?
Thousands of adventurous trekkers from each corner and nook come to the Everest region each year to experience the absolute heaven on Earth. Each year the number of tourists is only accelerating in the EBC trials.
Here are some of the reasons why Everest base camp is a very famous trek in Nepal:
Mesmerizing and close-up view of majestic Mount Everest and other Himalayan ranges
Peaceful natural surrounding
Incredible 360-degree vistas and magical sunset over the mountain at Kala Patthar (5,555m)
Brave Sherpa people's culture, tradition, and cuisine
Witness the highest glacier on Earth (4,900 m), i.e., Khumbu Icefall.
To witness the thrilling descent into one of the most dangerous airports on Earth, i.e., Lukla Airport.
To explore the UNESCO world heritage site Sagarmatha National Park
Feel the magnitude of the world's tallest mountain as you stand at its foot and gaze up at it.
Namche Bazaar, a classic mountain town, is fun to look around at your own pace.
Everest base camp-Cho-La Pass- Gokyo trek Everest Gokyo valley trek in Nepal
Which is the Best Season For Everest Trek?
If you are planning to visit EBC but wondering about the best season to trek Everest base camp, don't worry. We will tell you everything in detail.
Watching the forecast before setting out on the Trek to Base Camp is crucial. The weather on Mt. Everest is difficult to predict, but you can check the current conditions before coming to the EBC trek.
Year-round, residents, amateurs, and experts journey to Base Camp. There are, however, highs and lows throughout the year. Spring and fall are the best seasons to trek Everest Base Camp. From sunset to sunrise, the sky is often straightforward. Magnificent sights may be seen against the blue sky. You can witness the best view in autumn, whereas spring offers wildflowers and lively scenery.
There is a higher chance of flight cancellations during the rainy season (June–September), yet many trekkers still set out on their journeys. Also, the temperature cools during winter, and snowfall begins in the Himalayan region, making the EBC trek more challenging. Hence, avoid trekking during the monsoon and winter due to freezing weather and slippery paths, making trekking risky.
14 Days Everest Base Camp Trek Difficulty
One of the most asked questions from trekkers is about how challenging is the EBC trek. Well, the answer to the question is it is a doable trek with 'moderate difficulty. Anyone active, fit, healthy, and can walk 4-5 hours a day for weeks can go to the EBC trek.
You don't need to be Sherpa or require different mountain climbing skills for the Everest Base camp 14 days trek. Even if you are not involved in physical exercises, you can still be eligible for this Trek; you only need a few months of preparations.
If you are planning the Base camp trek, start preparing within 2-3 months by involving yourself in running, jogging, cycling, or swimming. After that, you can quickly complete the EBC trek.
Altitude and distance are the two significant Everest trek difficulties. The classic Everest base camp itinerary completes in 14 days, meaning you will be trekking for 3-6 hours each day, covering around 10-20 kilometers daily.
Besides, altitude is also a significant challenge for the Everest base camp trek. The height of EBC is 5364m, and of Kata, Patthar is 5545 m from sea level. The air becomes thinner with the increase in size, and you might get altitude sickness. Therefore, our trek itinerary is prepared to keep these things in mind. You will get two days of rest to acclimatize your body at low atmospheric pressure at a high altitude out of Everest base camp 14 days trek.
Further, low temperatures and weather also add to the 14 days Everest base camp trek difficulty level making it hard to trek during the winter and summer seasons. However, you can quickly complete your Everest Base camp 14 days trek journey with MYEverestTrip. We will guide you to overcome all the difficulties you might face during your Trek.
You can contact us if you have any queries regarding the EBC trek. Our expert team will guide you in making planning and preparation before coming for the Trek.
Is Everest Base Camp Trek Safe?
You must wonder about trek safety with the COVID-19 pandemic, different virus variants, and stiff terrain. However, the Everest base camp 14 days trek is safe for all the adrenaline junkies with MyEverestTrip.
We recognize the terrains are somewhat challenging; therefore, our crew is always there to encourage and inspire you. To protect you against COVID-19, we have vaccinated all our workers. Besides, we have a well-experienced trekking expertise guide to support you with any obstacles. Further, all our guides have undergone extensive training in wilderness first aid.
Information About the Everest Base Camp Trekking Package
If you book your Everest base camp trekking package with MyEverestTrip, our team will pick you up at the Tribhuvan International Airport. Our airport representative will be waiting for a leaflet with both your name and the name of our firm. Upon arrival, you will be greeted with a Khada or a garland of marigolds.
Then, a private car will be waiting to take you to your hotel outside the hotel. Similarly, we also transfer you to the airport from the hotel during your departure.
Accommodation for 14 days Everest Base Camp Trek
Our 13-night Everest Trekking Package includes stays in the finest hotels and lodges along the trek route. Every room is designed for two people to share.
Tea houses, local guest houses owned by Sherpa, is the popular accommodation in the EBC trek region. You can get from basic to well-developed tea houses, depending on the budget. Up to Namche Bazaar, you can even get the luxury package, including a private bathroom and Wi-Fi services
EBC Trekking Package for Accommodation Includes:
One night stay at Lukla, Lobuche Gorakshep, and Pheriche
Two night stay at Phakding, Tengboche and Dingbuche
Three-night stay at Namche Bazaar
The package does not include two nights of hotel accommodation in Kathmandu before and after the trip. Further, you must pay extra for a hot shower and Wi-Fi services.
Food During Everest Base Camp 14 Days Trek
Hiking at a high altitude requires plenty of energy; thus, we must have foods high in carbs and protein during the EBC trek. While the food we supply on this walk will undoubtedly satisfy your hunger, it will pale compared to what you can get in a major city.
The most popular food during the EBC trek is a traditional Nepali meal,i.e., Dal Bhat. Besides, you can also get varieties of Chinese, Indian, and international cuisine as per your order.
Fourteen days Everest base camp trekking package includes 14 breakfasts, 13 lunches, and 14 dinners. Besides, all the other expenses, including alcoholic drinks, tea/ coffee, and snacks, will not be included in the package.
If you are coming to Nepal for the first time, you should try 'Dal Bhat' at least once, combining lentil soup, vegetable curry, and steamed rice. Also, try out some local foods prepared by Sherpa people, such as Tibetan bread, Momo, Thukpa, and butter tea.
Moreover, fresh organic veggies will be grown in the farmer's field at tea houses at the EBC trek. However, having breakfast and night dinner at the tea house where you will stay is compulsory.
How Much Does an Everest Base Camp Trek Cost?
The Everest base camp trek cost can vary greatly depending upon the route chosen, or length of the Trek, or the kind of Trek: solo or group trekking. The price will be even higher if you plan an Everest helicopter tour.
Therefore, it can be as little as $650 to thousands of dollars.
Some of the Everest base camp trek packages and approximate prices are as follows:
$1750 for a Package tour Everest base camp trek with an international agency
$1320 for a Package tour Everest base camp trek with a local agency
$1120 for an Independent EBC trek with a guide and porter
$930 for an Independent EBC trek with a porter
Extra Personal Expenses at EBC Trek
Trekkers or visitors must cover their costs for food and lodging during their stay in Kathmandu. Online booking is simple, or we may do it for you if you like.
You'll also need money for visa applications, travel insurance, food and drinks on the trip, souvenirs, tipping the trekking crew, etc. We suggest that you bring cash/ Dollars and change them into Rupees. At the Nepali market, you can only pay with Rupees.
Acclimatization During the Everest Trek
Before climbing to EBC, you must get used to the high altitude. Above 8000ft (2438.4m), you should know that altitude sickness is possible. There has to be rigorous monitoring as much as the height gains of 5,000 meters. It is because the air becomes thinner with the increase in altitude. Thus, you can best acclimatize at EBC by sowing your pace or taking one or two days' rest.
Therefore, our Everest trek itinerary includes two days of rest at Namche Bazaar and Dingboche to acclimatize to the high altitude.
While altitude sickness is a prevalent issue on mountain treks, it is avoidable and requires prompt treatment. However, the effects of altitude sickness may become life-threatening if ignored.
At an altitude of 3,500 m, many people experience mountain sickness symptoms. If you start to feel the effects of altitude sickness, our expert trek leaders and guides will utilize oximeters to keep tabs on your blood oxygen levels.
We've ensured there's time to get used to the altitude and a slow ascent to avoid altitude sickness. Additionally, we recommend consuming large amounts of water as a preventative measure. Don't fret about altitude sickness; our staff will see your health and advise on how to avoid it. If you become very sick, the only thing that will help is if you go down quickly.
Nepal Visa Requirements and Application Instructions
A visa is required to enter Nepal for all nationalities of foreigners other than Indians. Tickets may be obtained upon arrival at Tribhuvan International Airport, and existing visas can be extended at the central immigration office. Information may be found at www.immigration.gov.np.
Applicants seeking visas must provide a passport with at least six months of validity and a passport-sized picture. People from China and the SAARC nations won't have to pay for a visa to visit Nepal.
However, non-SAARC countries citizens have to pay US$50 in Cash to cover their 30-day visa stay, and you can get it at the Tribhuvan International Airport.
Currency Exchange in Nepal
You have to pay Rupees in the Nepali market. So, it is crucial to convert your dollars to NPR Cash Rupees. In Kathmandu and all across Thamel, you'll find local banks and reputable money exchanges where you may trade most major international currencies for Nepalese rupees.
We suggest you come with Cash to make an exchange in Kathmandu. You may also use one of the ATMs in Thamel and around the rest of Kathmandu Valley to get Cash in Rupees. However, you can withdraw only 35,000 Rupees from an ATM using a foreign card with a thCash0 extra service charge.
Permits Required for EBC Trek
Permit fees are a natural measure taken by the government of Nepal to ensure the continued health of the Everest and Himalayan ecosystems.
Permits are required to enter all Nepalese national parks, including Sagarmatha. Permit fees are a nominal price when considering the value of this region's snow, woods, ice, pastures, and culture and when compared to the expense of a journey to Nepal and the Everest Region.
Each year thousands of trekkers and mountaineers visit the Khumbu region of Nepal to enjoy the stunning sights, which include Everest, Mt. Ama Dablam, the Goyko Lakes, and many more. Permit fees are imposed on visitors to keep this place pristine for future hikers and the locals of Nepal.
For the EBC trek, you need the following permit:
Khumbu Pasang Lhamu Rural Municipality Permit
You must have a Khumbu rural municipality permit to access the Khumbu region. You can't obtain the key from Kathmandu Valley. You can purchase the license at either Lukla or Monjo. For the first four weeks of the pass, you will have to pay NPR 2000 (16 USD) per foreigner. Further, the next twelve weeks will cost approximately NPR 2500 (20 USD).
Permit for Sagarmatha National Park
Sagarmatha National Park is home to many endangered flora and fauna. To reach EBC, you will have to pass through Sagarmatha National Park. Therefore, without a permit, you can't enter the Everest region. You can get the license at Kathmandu or Monjo's entrance gate. It will cost roughly NPR 3000 for foreigners, NPR 1500 for SAARC nationals, and only NPR 100 for Nepalese.
FAQs
How Much Luggage to Carry During the Trek to EBC?
The maximum allowed baggage weight per traveler is 12 -15 kg. Two hikers will share one porter if their gear doesn't weigh more than 25-30 kg. We have never asked a porter to carry more than their fair share.
On the other hand, you'll need to bring your bag pack containing valuables and essential things. Just take what you need and nothing more.
How High is the Base Camp Trek?
It is located at an altitude of 5,364 meters (17,598 feet). The Trek begins at 1,600 meters in Kathmandu and culminates at 5,555 meters in Kala Patthar.
Is There an Internet Facility on the Everest Trek?
Yes, you can quickly get Wi-Fi in all the tea houses up to Gorakshep. However, you must pay extra 2-5 dollars for the Wi-Fi service daily. Also, the internet speed is not that good. You can also buy a SIM card and use mobile data instead.
How to Communicate with the Groups During the Trek?
You can use the internet for a modest fee at the lodges, but until you go to the higher elevations, you'll have to rely on the phone for all your communication needs. Signals tend to be weaker at higher altitudes but may be available depending on your network. So, buy a local SIM card before heading to EBC.
Is a solo trip possible for the Everest Trek?
Yes, you can go on a solo trip to the EBC trek since it is the most popular Trek, and trails are usually filled with crowds so that you can meet many trekkers. Similarly, Sherpa people are constructive, and the route is also marked, thus making solo trekking fun.
Can I Find a Money Exchange on the Everest Trek?
Yes, you can find them at Lukla and Namche Bazaar. But you might have to bring Cash along to exchange the currency. Sometimes, they might be closed. So, it is best to exchange your money in Kathmandu.
Can I take the kids to the Everest Trek?
You can go for the EBC trek with your kids, but they should be physically and mentally fit. Besides, they should be able to walk with you for 5-7 hours daily. However, we do not advise bringing small kids below ten years old.