Are you dreaming of Everest Helicopter Tour With Landing at Kalapathar to see Mount Everest? If yes, a Helicopter tour to Everest is the best option. The Everest Base Camp Helicopter Tour with Landing at Kalapathar is Nepal's most popular helicopter ride. The helicopter tour is a single-day package from Kathmandu airport to Mount Everest.
The EBC Helicopter Tour with Kalapathar landing is a day trip that departs from Kathmandu and flies you to the foot of the world's tallest peak, which stands at an altitude of 5,346 meters. Some may ask how challenging an expedition to Everest might be. This opulent journey, however, was created for individuals who may have difficulty with the walk. Those who don't have weeks to go to Everest Base Camp on foot are better off taking a helicopter trip. Those with physical disabilities who want to climb the world's highest mountain may accomplish it in a day or less by following the Heli route.
Kala Patthar, a well-known viewpoint, is where the helicopter stops. In a moment, you'll be soaring above the clouds, with spectacular bird's-eye views of the rolling green hills and towering Himalayas. Helicopter rides from Kathmandu to Kala Patthar usually last around an hour. Incredible, up-close vistas of pristine alpine peaks are yours for taking on this exhilarating excursion. The main attraction of this trip is the opportunity to witness the world's highest peaks up close, as well as other prominent mountains such as Cho-Oyu, Gourishankar, Lhakpa Dorje, and many more.
Everest Helicopter Tour Program
Beginning in the Kathmandu valley, our Everest Helicopter Tour with Kalapatthar landing takes off from the airport's domestic terminal at Tribhuvan International Airport and heads toward the Himalayas. The plane travels around the valley's rim before landing at Lukla, the starting point for most Everest trips. As seen from above from a helicopter, the scenic environment is lush, rolling hills adorned with agricultural fields against a background of pleasing mountains. Once we land at Lukla Airport, the trip takes on a new, revitalizing quality. After a few loops, the plane returns to Lukla Airport's runway to refuel. This is where your introduction to Sherpa culture will begin. Most inhabitants in the Everest area are Buddhists and uphold Buddhist-related customs and beliefs.
Following a brief pause and flight checks, we'll ascend higher to fly above Everest and descend to Kala Patthar, whichever the customer prefers. Before attempting to land at Kala Patthar, at the height of 5450m, our courageous pilots will check the helipad and make sure all safety measures have been completed. Instantaneously, you will be welcomed by breathtaking vistas of the Khumbu Ice Falls, glaciers, and Mt. Pumori, as well as the Nuptse, Lhotse, and Lola peaks. We encourage our guests to be in the moment and enjoy the beautiful scenery without worrying about getting the perfect picture to show back home.
Before heading back to Kathmandu, we'll stop for breakfast at Hotel Everest View in Syangboche, the world's highest hotel. Our time at Syangboche will be between twenty and thirty minutes. After breakfast, we'll return to the Lukla Airport to refuel before heading to Kathmandu.
Significant Highlights of the Everest Helicopter Package
Incredible Mountainous scenery during the helicopter ride from Kathmandu to Everest Base Camp.
Aerial image of verdant alpine woodland bursting with rhododendron and pine trees between pristine ice lakes and glaciers.
I was taking in the breathtaking landscape and fertile farmland from above.
Arrive at the 5,545-meter-high Kala Patthar.
Kala Patthar offers spectacular 360-degree views of the surrounding mountains.
The world-famous Himalayan natural reserve, Sagarmatha National Park.
Historic and culturally significant to the Himalayan people, these long-abandoned monasteries and other relics await exploration.
Khumbu has a spectacular array of glaciers in the Himalayas.
The Sherpa people, their distinctive clothing, and the way of life in the Himalayas.
Fly to Base Camp at the foot of Everest to see where mountaineers stay before attempting the climb.
Experience the breathtaking Himalayas from the comfort of a helicopter.
At the Everest View Hotel, the highest in the globe, you can have a great breakfast while taking in breathtaking views.
Why Everest Base Camp Helicopter Tour Over the Classic EBC Trek?
Classic EBC trek takes 11-14 days to complete, whereas you can witness the Majestic Mount Everest region within 4 hours of flight from Kathmandu with just 1000 dollars.
From the vast, clear windows, you can witness the panoramic views of spectacular mountains, including Mount Everest, Khumbu Icefall, and the Sherpa villages.
The Classic route to Everest Base Camp is crowded with trekkers, but with an EBC Heli tour, you'll be able to avoid the crowds at both the airport and the destination.
From young to elderly enthusiasts willing to witness the glory of Mount Everest can fulfil their dream of setting foot in EBC without worrying about fitness and Altitude sickness with the Everest Base Camp Helicopter Tour.
Lastly, it is the safest and easiest way to be in the Everest region.
One-Day Itinerary of Everest Helicopter Package
(Kathmandu to Kalapatthar vie EBC: fight duration around 4 hours)
6:00- 6:30 AM: Pick up from the Hotel and Drive to TIA Domestic Terminal
Everest Helicopter tour typically departs from Kathmandu's international airport. In the morning, our staff will pick you up from the hotel and transport you to Tribhuvan International Airport in time for your flight.
6:30- 7:00 AM: Documents Verification and Safety Instructions Before Boarding the Flight
When you arrive at the airport, your guide will help you check in and carry on your bags. Bring your tickets and passport with you at all times. To board your flight to Lukla, you must first check in at the airport and have your credentials and key verified by an official.
The flight instructor will provide a preflight briefing covering flight safety procedures and policies. After the preflight briefing, you'll meet your pilot and be invited to get aboard the helicopter.
7:00- 7:45 AM: Take off to Lukla From Kathmandu
As soon as you've finished checking in at the airport, it's time to board the plane to Lukla. As you take off, you'll be greeted by beautiful views of rolling green hills, and after you fly over Dolakha village and Jiri village, you'll arrive at Jiri. The helicopter trip continues over Lamjura-La Pass, which is 3,550 meters in elevation and is surrounded by dense rhododendron woods. When you arrive in Lukla after 45 minutes, you'll be treated to stunning panoramas of the Himalayas. Lukla is located 2,820 meters above sea level. Lukla Airport, with the world's smallest runway, is a significant tourist attraction in the region.
7:45-8:00 AM: Helicopter Landing and Fueling in Lukla.
As soon as you set foot in Lukla, you'll get a glimpse of the native Sherpa culture and way of life. The time needed to refuel the aircraft is around 15 minutes.
8:00- 8:15 AM : Fly to Kalapatthar
Your flight to Kala Patthar will begin after a stop for fuel in Lukla. Whether flying over the massive Khumbu glacier or the legendary Everest Base Camp, the in-flight commentary will keep you apprised of your precise location. Later in the flight, you'll enjoy spectacular views of mountains, including Everest, Pumori, and Lhotse's peak, when you pass over the Kala Patthar.
The sights you'll see from the air on this helicopter trip are stunning, but that's not all they have to offer. The Everest Helicopter Tour lasts between three and four hours, giving you plenty of time to land at Kalapatthar and take in the scenery of the Khumbu area of Nepal, home to some of the world's tallest mountains.
A once-in-a-lifetime opportunity that numerous people dream of experiencing is landing at the Kalapathar, which is located above the Everest Base Camp (5,380 m). Kala Patthar gives a 360-degree overview of Everest, much of the area, and its many breathtaking peaks, in contrast to the Everest base camp, where the Lhotse Nuptse wall mostly obscures the view of Everest. While fifteen minutes may not seem like much time on the ground, it is far enough to discover breathtaking vistas of the surrounding mountains.
8:30- 8:45 AM: Fly to Everest View Hotel Sangboche
Following our incredible landing at Kalapatthar, we will make our way to the Everest View Hotel in Syangboche for breakfast. This well-known establishment provides guests with a breathtaking, up-close view of Everest and excellent dining options.
8:45- 9:15 AM: Landing and Breakfast at Everest View Hotel
The Everest View Hotel, located at an altitude of almost 13,000 feet, is the highest hotel on Earth. You may have breakfast at the Everest View Hotel while taking in a panoramic vista of snow-capped peaks. Eating breakfast at over 4,000 meters above sea level while staring up at Everest is like something out of a fairy tale.
9:15- 9:45 AM Fly Back to Lukla and Refuel
After a fantastic breakfast at the hotel, you will fly back to Lukla with breathtaking views of the Himalayas. Nothing is more thrilling than a crisp, up-close glimpse of the Himalayas from a bird's eye perspective. Once again, the plane will make a 15-minute fuel stop at Lukla before returning to Kathmandu.
9:45-11:00 AM: Fly Back to Kathmandu and Return to the Hotel
The last helicopter trip to Kathmandu will depart after the 15-minute refuelling break. Spend another 30 minutes admiring the gorgeous countryside and the fantastic aerial views of the Himalayas. Our team will take you to the hotel upon arrival at TIA domestic terminal.
Best Time for Everest Helicopter with Kalapatthar Landing Tour
Due to its short duration, the Everest Base Camp Helicopter Tour may be held at any time of the year. However, the Everest region's ever-changing weather might make flying helicopters to Everest Base camp difficult. Further, it is challenging to execute Helicopter flights throughout the summer due to severe rain and excessive humidity.
The most significant times for Helicopter tours in Nepal are in the fall and spring when the weather is mild and the sky is clear most of the time. The spring and fall seasons also provide excellent visibility, allowing you to take in beautiful aerial views and magnificent mountain landscapes. If you find yourself in Nepal during the winter, you may want to consider waiting till spring. When clouds are less likely to form in winter, the Everest Heli tour to Everest's summit may be a spectacular experience. During the winter, the mountains are blanketed with glistening snow that reflects the sun's rays. Since the EBC Heli Tour is a daylong excursion, the day's weather and visibility are particularly crucial.
Spring Season
March, April, and May are Spring months in Nepal. Now is a great time to take a helicopter ride over the EBC region. The climate is mild and pleasant, and it is close to camp. Daytime highs average approximately 15 degrees Celsius, making it relatively comfortable. Compared to the -10°C temperatures experienced in the mornings and evenings. There is a good view of the mountains.
But as the season winds down, the temperatures rise, and the weather patterns shift. The scenery is breathtaking at this time of year when the rhododendron flowers cover substantially lower slopes in brilliant colour.
Monsoon Season
Due to the unpredictability of the weather, this is not a particularly good time to do the Everest Helicopter Tour with the Kalapatthar landing. Clouds often obscure Mt. Everest during this time of year.
Even amid a monsoon, the mornings are clear enough to allow for tours to be conducted, albeit additional care must be taken to ensure everyone's safety. The average temperature shifts from 17°C to 5°C during this period. Poor weather increases the likelihood of flight cancellations compared to the offseason or other primary seasons.
Autumn Season
Another excellent time for an Everest Base Camp helicopter tour in Nepal is in the fall. Once again, Nepal is experiencing a dry season. There is an ideal time window between September and November when temperatures are mild everywhere except at very low altitudes.
The climate is mild, with typical highs of 10 degrees Celsius and lows of -10 degrees Celsius. There is absolutely zero possibility of precipitation at this time of year. The high Himalayan vistas will be unobstructed by clouds or fog.
Winter Season
Conditions at base camp tend to be chilly throughout December through February when winter officially begins. However, the EBC Heli tour is still doable. With the hills and mountains completely blanketed in snow, the landscape looks like something out of Winter Wonderland.
While winter in the Himalayas offers breathtakingly beautiful vistas, braving the bitter cold, biting wind, and deep snowfall may be a hardship. Despite these difficulties, you'll be rewarded with breathtaking views of the snow-capped peaks above. Bad weather conditions can result in flight cancellations and delays, so it's best to expect the unexpected.
Everest Helicopter Tour Cost
As the tallest mountain on Earth, Mount Everest stands at a staggering 8848.86 meters above sea level. Exploring and seeing Mount Everest is a lifelong goal for many. Some individuals may have a strong interest in seeing Everest, but they may not be physically up to the challenge of the complete hiking route. Some people may be unable to participate because of time constraints or physical ailments. They, too, would benefit significantly from this one-day Everest Helicopter tour package.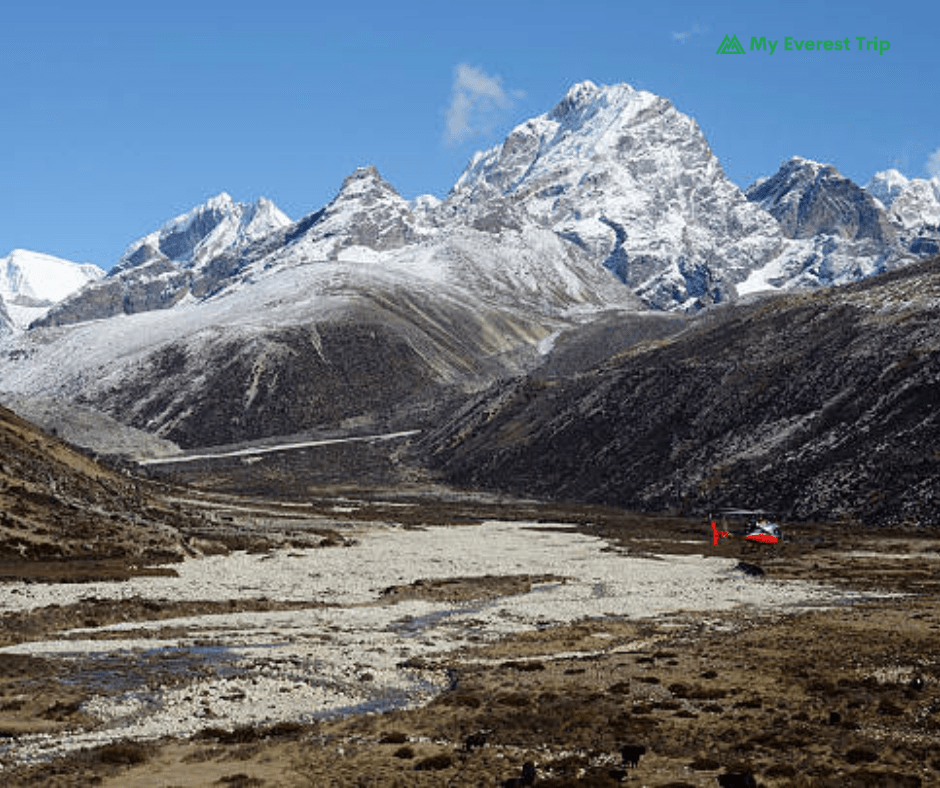 When planning a trip to Nepal, including a helicopter ride to the base camp of Mount Everest is a must. A short day trip is from Kathmandu to the summit of Everest and back. For those who don't have as much time as they'd like, this is an excellent alternative to the classic Everest Base Camp Trek.
The Everest Base Camp Helicopter tour with Kalapatthar landing may initially appear pricey. Still, whether you select the charter option or join a group is relatively reasonable per person. This journey may be undertaken alone or in groups of two, three, four, or a maximum of five. If you ask anybody who has been on the EBC Helicopter Tour, they would all agree that it was well worth the cost. The whole trip, beginning in Kathmandu, is unforgettable.
Cost for Group Joining the EBC Heli Tour
Feel free to get in touch whenever you'd like if you have a group and would want to take a helicopter to Everest Base Camp. Budget-friendly Everest chopper rides with a professional guide are what we have to offer.
Depending on how many people are going on the trip, there will be a different prices. The per-person fee is around $1000 if you have a group of 4-5 people.
Private EBC Heli Tour Cost
Take a solo trip to Mt. Everest's base camp on a private helicopter tour we provide in Nepal. The cost above is valid only for bookings made in a group. An individual should expect to pay between $3350 and $4000 for a private Helicopter journey to Everest base camp.
How Safe is the Everest Helicopter Tour with Kalapattar Landing?
The Everest Base Camp Heli tour involves flying to an altitude of 5,643 meters and then hiking to the camp. We can guarantee the safety of your journey because of the robust construction of our shuttles, which can survive high altitudes and severe winds. Similarly, we work with competent pilots and crew members with extensive Himalayan flight experience.
Our one-day Everest Base Camp helicopter package is one of the safest vacations you'll ever take. Anyone with a disability or health condition that prevents them from making the journey to Everest base camp would find this excursion ideal.
Experience the Himalayan splendour of the Everest area from a new perspective on the Everest Base Camp Helicopter Tour. Just how well-informed you are on the following matters will determine the success of your trip to the region:
Weather Patterns and Seasons
High Altitude Sickness
Emergency medical care and travel insurance
Flight Delay Policies and Procedures
Expenses Include and Exclude
Also, please let us know if you have any doubts or worries about this flight.
When planning your Everest Helicopter Tour, you must remember critical details related to safety, regulations, and the trip itself. To ensure that you have plenty of time to take in the spectacular landscape and unique culture of the area, we will do our best to ensure that our Everest Helicopter tour with Kalapatthar landing covers all the essential sights and attractions.
To begin with, the number of stops and landing locations (such as the Everest View Hotel) may fluctuate based on the day's forecast and other factors. The well-being of our customers and employees is our number one concern. Therefore, our experienced pilots will make the ultimate call since they are the most qualified. Here are a few other details to keep in mind throughout your helicopter tour:
Be sure that you are fastening your seat belt correctly.
Our seating arrangements will ensure that the helicopter's load is spread evenly between its passengers. So, seating alignments are final for your safety.
. Please don't get up from your assigned seat until the captain says it's okay.
No smoking is allowed unless given express permission by the captain.
Weather and Climatic Conditions of the Everest
Depending on the time of year you visit the mountain, the weather might fluctuate. Kalapatthar and Everest Base Camp are accessible by helicopter aircraft throughout the year. Conditions are perfect in the morning throughout the year, although the monsoon may bring cloudy days and even rain. In the case of a weather-related flight cancellation, all fees will be refunded to the customer.
The height of the Everest base camp helicopter tour is above 4000 meters. The helicopter lands at Syangboche (3,880 meters), not far from Everest's base camp (kalapathar) at 5545 meters. Clean air and a beautiful mountain backdrop may be expected around the middle of September and through December. Daytime highs and lows will be about 5 and 20 degrees Celsius. At night, temperatures will drop to between -10 and 10 degrees Celsius.
The winter weather will be clear but much colder than in the fall. Temperatures will range from 10 to 15 degrees Celsius during the day and from -15 to -10 degrees Celsius at night.
It is best to take an Everest Helicopter Tour with Kalapatthar Landing during April and June when the weather is mild and the mountain is warming up to a more comfortable temperature. Daytime highs will be in the 15°C to 20°C range, but nighttime lows will be somewhat chillier. It's best to check the forecast if you want an idea of what to expect from the weather today; climate change makes the weather unpredictable.
What is the Maximum Weight for Landing at Kalapatthar?
The maximum passenger weight for a helicopter trip departing from Kathmandu is 450 kg. Because of the varying elevations and air pressures in the highlands, each location has a unique maximum landing weight limit. The total weight of all passengers and their luggage cannot exceed 450 kg upon landing at Syangboche. Here is where you will find the Everest View hotel. For comparison, the maximum landing weight at Pheriche is 420 kg, whereas, in Kalapatthar, it's just 220 kg.
Once you go over 4000 meters in altitude, the average weight limit of the helicopter drops to 250 kg. At first, we'll stop at the Pheriche so the pilot may modify the helicopter's load for a passenger count of more than 3. We plan to control the bag for a single shuttle trip at Pheriche and then go to the EBC.
That's why a group of four or five can't go to Kalapatthar all at once. The helicopter must make an additional shuttle journey from Pheriche to Kala Patthar.
There are season-specific attire requirements for the Everest Base Camp Helicopter Tour. During the warm season, you'll need a down jacket and heavy pants to remain cordial at the high altitude. The temperature is often below freezing.
For this helicopter trip, you won't need as much gear as for a hike to Everest Base Camp. To stay warm at a high altitude, you need some high-quality garments. Here's a quick and easy packing list for your EBC Heli- tour:
Windproof down jacket
Proper base layer clothes
Warm and comfortable shoes and socks
Warm woollen hats, Scarf, and shawls
Snacks and a water bottle
Camera
Lip balm and UV-protected sunglass
Toiletries
Why Won't a Helicopter Land at Everest Base Camp?
One of the primary reasons is that Everest Base Camp lies on the side of Khumbu Glacier. Consequently, there won't be enough space for the helicopter to land. Similarly, The EBC lies at the foot of the Himalayas, so you won't be able to view all of the high peaks in this area. To provide you with the finest trip of your life, the EBC Heli tour is made with Kalapatthar landing, the finest vantage point. From Kalapatter, you can view Mount Everest, Mount Abadablam, Mount Pumori, and other tall mountains in the Everest area.